Who should exhibit
ITE HCMC is a great platform to showcase products and services to visitors and buyers from all across the globe.
The 18th ITE HCMC 2024 is expected to attract more than 400 exhibiting companies and brands from 40 countries and territories, including Cambodia, Germany, India, Indonesia, Japan, Korea, Laos, Malaysia, Myanmar, Netherlands, the Philippines, Russia, Singapore, Taiwan, Thailand, Turkey, United Arab Emirates, etc. as well as 45 cities & provinces of Vietnam, cementing its status as one of the fastest growing international tourism trade events in the region.
EXHIBITOR PROFILE
1. Accommodations, Hotels, Resorts
7. Luxury Travel/Golf Tours/Cruises
2. Associations/Institutions
8. Medical Tourism, Wellness, Spa
3. Attractions/Theme Parks/Museums/ Traditional Villages
9. MICE Organizers
4. Education/Tourism Training Facilities
10. NTOs / Tourism Promotion Agencies
5. Enterprises producing and trading related products & services
11. Transportations, Airlines / Carriers
6. Enterprises producing and trading typical products of the region
12. Travel Agencies, Tour Operators, Online Travel Agents (OTA)
13. Travel Technology
Why exhibit?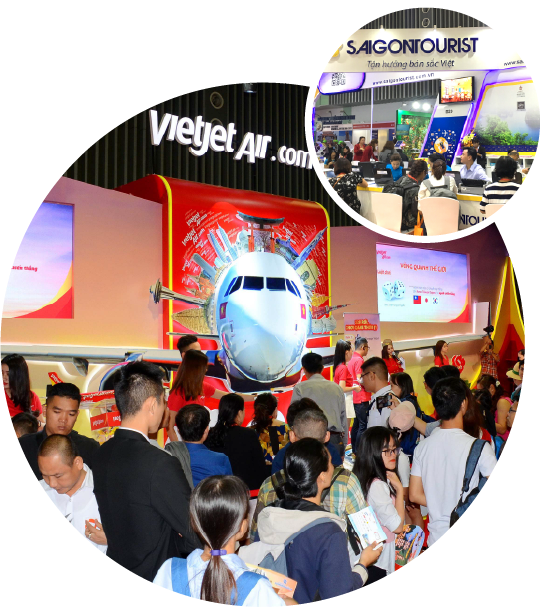 ITE HCMC is the leading international tourism event in Vietnam and the Lower Mekong Subregion for both inbound and outbound markets.
After 16 successful editions, ITE HCMC has constantly grown in terms of scale, the number of participating businesses and the quality of buyers.
ITE HCMC is the travel gateway of Vietnam where the cultural and unique characteristics of destinations across Vietnam are introduced to foreign visitors and buyers, to help domestic and international travel businesses strengthen linkages and diversify tourism products as well as looking for business opportunities.
Elevate your brands and products with a modern, high-tech online hybrid display booth that first launching for travel industry in Vietnam.
Double benefits: Registering for a physical booth will get a free 2D Virtual Booth (virtual listing).
An ideal platform for tourism businesses to restart, overcome difficulties caused by the COVID-19 pandemic and shine again.

EXHIBITOR TESTIMONIALS
What did Exhibitors say about ITE HCMC 2023?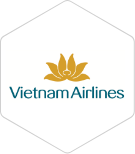 VIETNAM AIRLINES (EXHIBITOR)
Vietnam Airlines is proud to have accompanied ITE HCMC for the last 17 consecutive years. Participating in ITE HCMC 2024 as Diamond Sponsor - the event's official airline, we continue to affirm the role and responsibility of the national airline. At the same time, we wish to bring customers more benefits and choices in each journey with our extensive flight network and modern fleet. ITE HCMC is also a good opportunity for us to meet, find and learn about new and potential partners, customers, and to cooperate to create new, high quality and attractive products, thereby contributing to the rapid and strong recovery of tourism, economy and society of Ho Chi Minh City in particular and Vietnam as a whole after the pandemic.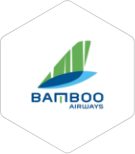 BAMBOO AIRWAYS (EXHIBITOR)
The event created many opportunities for Bamboo Airways to connect with potential partners and customers, network domestically and internationally, as well as expand our markets, which contributed raise Vietnam's tourism industry competitiveness on the global tourism map. ITE HCMC plays a significant role in raising awareness about Bamboo Airways in the local & international travel industry.
Korea Tourism Organization (KTO)
We appreciated the effort of the Organizers to restart ITE HCMC after a difficult year due to the pandemic. The event had a significant role in promoting tourism between Korea and Vietnam, and we hope to continue introducing Korean tourism at ITE HCMC 2024.
Tourism Promotion Organization for Asian-Pacific Cities (TPO)
ITE HCMC was a very insightful tourism event for us. We have connected with many partners as well as participated in various tourism-related activities at this year's event.
European Chamber of Commerce in Vietnam (EUROCHAM)
ITE HCMC was a good opportunity to meet and interact with many media, exhibitors and buyers. Moreover, countries can also showcase their cultures to all visitors at ITE HCMC 2024.
BenThanhTourist
We had the opportunity to meet Hosted Buyers from all over the world and seek new partners and potential cooperation.
Taiwan Tourism Bureau
ITE HCMC 2023 was a very good opportunity for enterprises in the tourism industry to interact with each other after COVID-19. The activities at the event were actively organized, and bustling with many presents.
Tohoku Japan
Thanks for giving us a great opportunity to meet many agencies in Ho Chi Minh City. ITE HCMC 2023 was also a good chance to introduce and promote our region to agencies and customers.
Exhibitor Guide

Physical Booth
The traditional model helps exhibitors directly introduce products/services to their partners and visitors.
Suitable for domestic and international agencies, organizations, enterprises with representative offices and agents in Vietnam.
Download exhibition documents