ITE HCMC 2023: Discover Vietnam and Global Top Travel Destinations
ITE HCMC 2023 – The largest and most established travel event in Vietnam and Mekong sub-region will take place from 07 – 09 September 2023 at the Saigon Exhibition & Convention Center (SECC), District 7, Ho Chi Minh City, Vietnam.
The 17th International Travel Expo Ho Chi Minh City, themed "Connectivity, Growth, Sustainability", offers three full days of opportunities to network with international and local exhibitors, as well as high-level forums, informative seminars, and top-notch entertainment experiences.
This year, ITE HCMC 2023 will double its scale compared to last year with exceptional quality. Therefore, the event is expected to attract leaders in the international travel industry and over 400 exhibiting companies & brands, of which, the booths from domestic units make up more than 70% and about 30% are international units.
In addition, the exhibition has attracted the leading tourism businesses such as Saigontourist Group, BenThanh Tourist, Vietravel, Tan Son Nhat Hotel, Holiday Inn & Suites Saigon Airport, Melia Hotels International, Movenpick, Tam Chuc National Tourism Area, Tung Lam Tourism Area, Muong Thanh Hospitality, and other sponsor in-kind: The Cocoon Vietnam, BLUSaigon and many more.
ITE HCMC 2023 will be held in a hybrid format, combining physical booths and 2D online booths. These online booths will inform international buyers about products, services and a pre-appointment booking system to connect with sellers.
Moreover, ITE HCMC has the exclusive Hosted Buyer Program which provides an opportunity for international tourism businesses to grow their markets and broaden tourism partners' networks in Vietnam and the Lower Mekong region. The Organizing Committee, together with the EuroCham, and leading tourism businesses, to select and invite over 200 international buyers from 20 countries and territories (increasing by more than 25% compared to 2022).
Ho Chi Minh City Department of Tourism also cooperates with the Vietnam National Administration of Tourism to organize many exciting activities such as Gala Dinner x World Travel Award – Asia & Oceania Ceremony, Seminar on the introduction of key tourist markets, ITE HCMC Awards 2023, Travel Fun Fair Day and many more.
ITE HCMC 2023 is organized under the guidance of the Ministry of Culture, Sports and Tourism and Ho Chi Minh City People's Committee, organized by Ho Chi Minh City Department of Tourism and Vietnam National Administration of Tourism, in collaboration with the Ho Chi Minh City Tourism Promotion Center, CIS Vietnam, and Le Bros.
Apply for Hosted Buyer Program via 
https://itehcmc.travel/buyer-3/buyer-registration/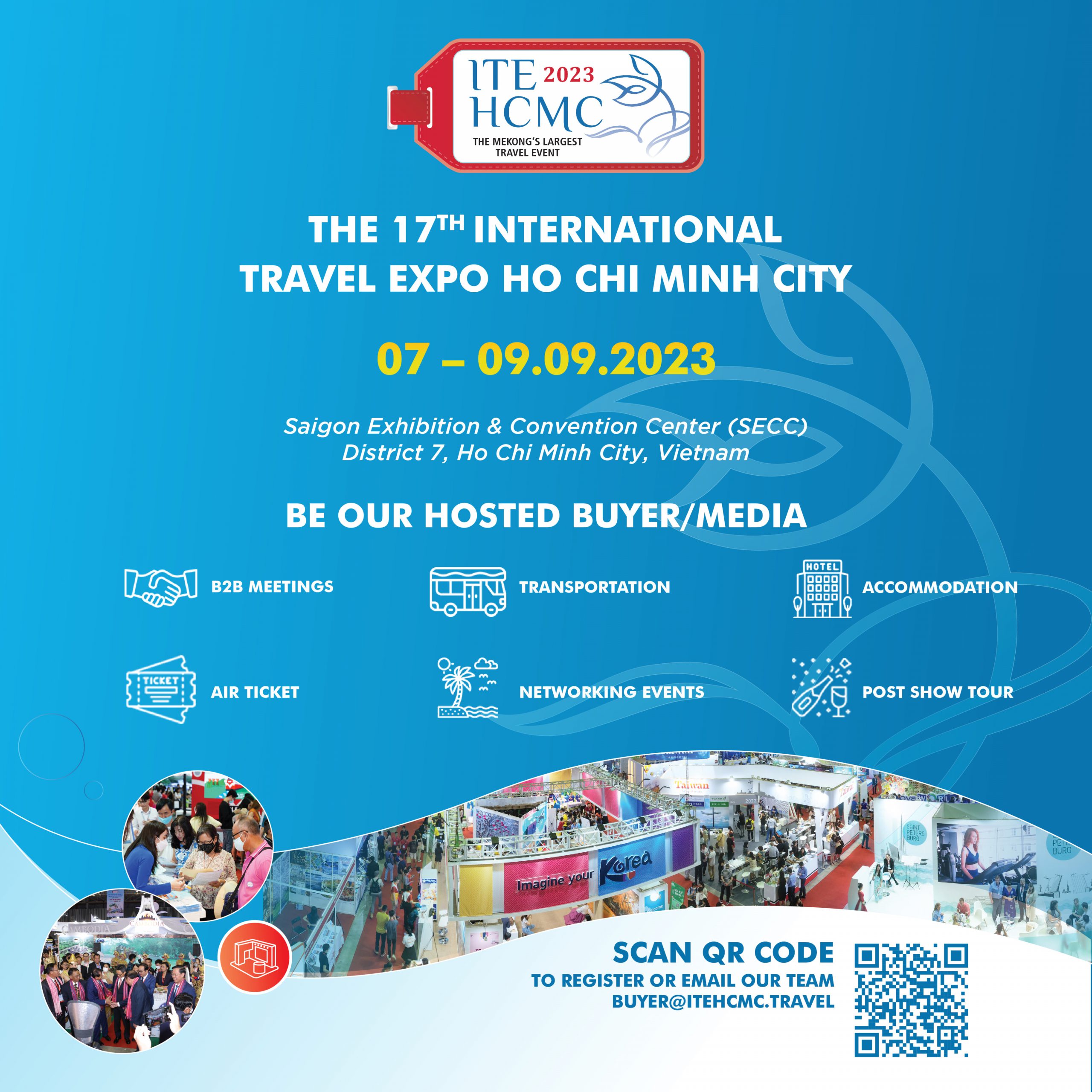 SHARE NEWS: