THE 17TH INTERNATIONAL TRAVEL EXPO HO CHI MINH CITY 2023 (ITE HCMC 2023)
Hanoi, April 13, 2023 – Ho Chi Minh City Department of Tourism held a press conference in Hanoi to announce the event of the 17th International Travel Expo Ho Chi Minh City 2023 (ITE HCMC 2023), which will take place from 07 – 09 September 2023 at the Saigon Exhibition & Convention Center (SECC), District 7, Ho Chi Minh City. This year's event will double its scale compared to last year with exceptional quality, bringing new approaches and comprehensive solutions to attract international tourists to Vietnam. 
The press conference was honored to welcome the presence of Mr. Ha Van Sieu, Deputy General Director of Vietnam National Administration of Tourism; Mr. Le Truong Hien Hoa, Deputy Director of Ho Chi Minh City Department of Tourism; Ms. Nguyen Cam Tu, Director of Ho Chi Minh City Tourism Promotion Center; leaders of Departments of Culture, Sports, and Tourism, Departments of Tourism, representatives of travel agents, airlines, hotels, and press and television agencies in Hanoi.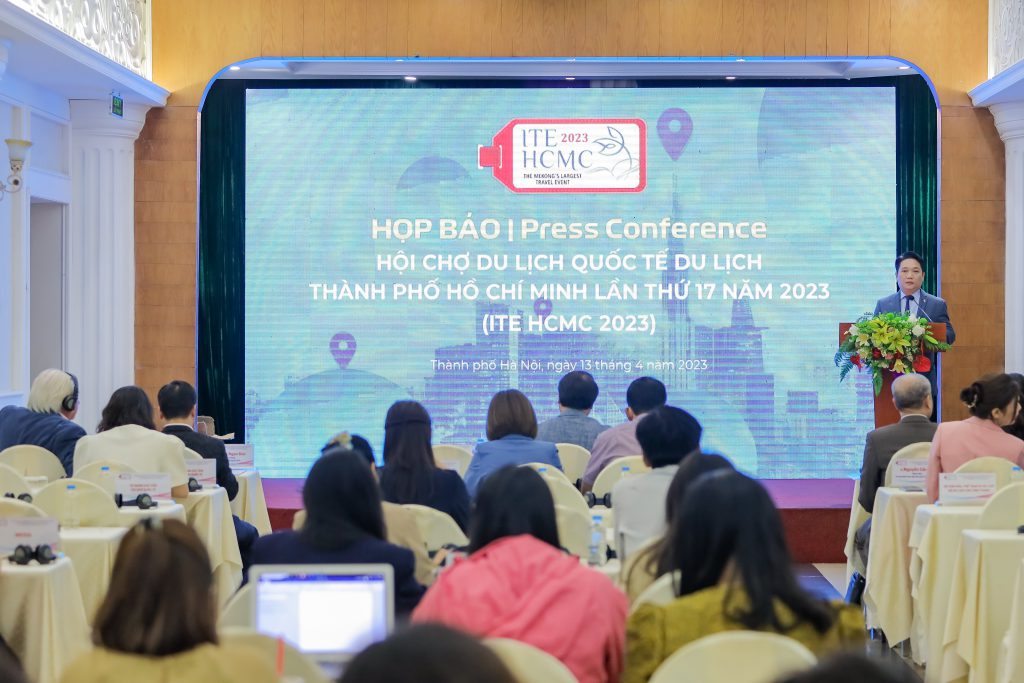 Press conference organizing committee
In order to enhance trade connections and create favorable conditions for business meetings between exhibitors, ITE HCMC 2023 will be held in a hybrid format, combining physical booths and 2D online booths. These online booths will provide international buyers with all information about products and services and a pre-appointment booking system to connect with sellers.
With the expansion in scale, doubling the exhibition and booth area compared to 2022 (increasing more than 15% compared to 2019), ITE HCM 2023 is expected to attract more than 400 exhibiting companies & brands, including national and local tourism promotion agencies, tourism associations, tourism research institutes, travel agents, hotels & resorts, airlines, and delivery companies, of which, the booths from domestic units make up more than 70% and about 30% are international units.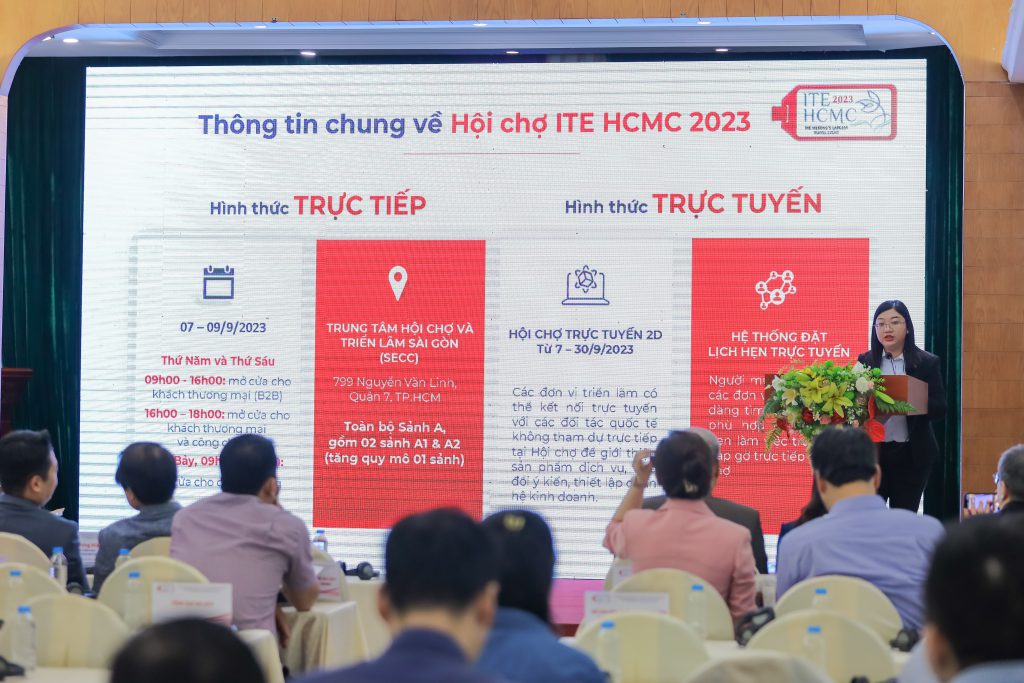 In addition, areas for functional activities, local tourism management agencies, and domestic and international sellers will be set up in a convenient and professional layout to optimize the experience of visitors coming to the fair. The local experience areas will also be the highlight of this year's expo when displaying and introducing the unique cultural features of Vietnam to international firms and the public through the Ao Dai exhibition, handicrafts, coffee, traditional art workshops, etc.
One of the main objectives of ITE HCMC is to expand the market share of international tourists to Vietnam and create a breakthrough in tourism promotion. ITE HCMC has the exclusive Hosted Buyer Program which provides an opportunity for international tourism businesses to grow their markets, attract tourists to Vietnam, and broaden tourism partners' networks in Vietnam and the Lower Mekong region. The Organizing Committee, together with the Advisory Board comprised of Vietnam Airlines, Bamboo Airways, Vietjet Air, other international airlines, the European Chamber of Commerce in Vietnam (EuroCham), and leading tourism businesses, to select and invite over 200 international buyers from 20 countries and territories (increasing by more than 25% compared to 2022).
The Expo aims to attract the attention and participation of leaders of international travel businesses, MICE travel agencies, and high-class resorts from key and potential inbound tourism markets of Vietnam, such as Northeast Asia (China, Korea, Japan, Taiwan), Western Europe (England, Germany, France, Italy, Spain), North America (USA, Canada), Southeast Asia (Thailand, Singapore, Philippines, Indonesia, Malaysia, Cambodia), Oceania (Australia, New Zealand), and the potential market like India, Qatar, UAE, Kuwait, etc. The expo is expected to witness more than 8,000 B2B trade appointments between international buyers and exhibitors.
Within the framework of ITE HCMC 2023, Ho Chi Minh City Department of Tourism also cooperates with Vietnam National Administration of Tourism to organize many exciting activities such as Gala Dinner x World Travel Award – Asia & Oceania Ceremony, Seminar on the introduction of key tourist markets, ITE Awards 2023, Consumer Day, etc.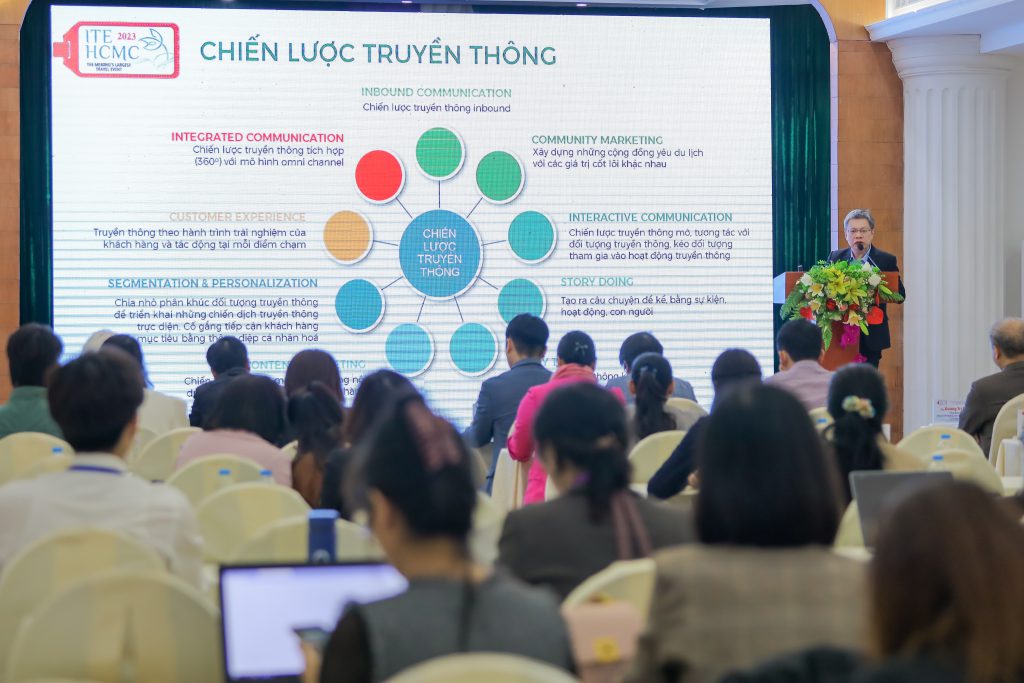 In addition,  ITE HCMC will open its door to the public on the last day and bring visitors a series of outstanding tourism promotion activities, of which notably will be Public Consumer Day, exclusive special travel promotions on flight tickets, accommodation, and tour packages, and exceptional art performances from countries in the region.
Speaking at the press conference, Mr. Le Truong Hien Hoa – Deputy Director of Ho Chi Minh City Department of Tourism, said: "ITE HCMC 2023 is organized under the guidelines of the Ministry of Culture, Sports and Tourism and People's Committee of Ho Chi Minh City to strengthen tourism cooperation, creating momentum for recovery and sustainable development. ITE HCMC is identified as one of the comprehensive solutions to promote the international tourist market to Vietnam, increase the flow of visitors between countries, Vietnamese tourism businesses, and between traditional and potential markets in the region and in the world. As the leading international tourism event in Vietnam and the region, the Organizing Committee is constantly working with great efforts to improve scale and quality to accompany localities, tourism businesses, hotels, resorts, tourist attractions, and related units to create momentum for sustainable development actively."
Not only affirming its position as the leading tourist destination in Vietnam, but Ho Chi Minh City is also one of the most active localities in organizing tourism promotion events. Besides, Ho Chi Minh City is also highly-appreciated for its comprehensive cooperation on tourism with other localities in the country. The 17th ITE HCMC 2023 hopes that the efforts in the event this year, in terms of scale expansion and quality improvement, will contribute to developing inbound and outbound tourism markets in Vietnam and the Mekong sub-region.
The event was endorsed by the Ministry of Culture, Sports and Tourism and Ho Chi Minh City People's Committee, co-organized by Ho Chi Minh City Department of Tourism, CIS Vietnam and Le Bros.
Information & Events:
Exhibition Day:
09h00 – 16h00, 07 – 08 September 2023: Open for trade visitors.
16h00 – 18h00, 07 – 08 September 2023: Open for trade & public visitors.
09h00 – 18h00, 09 September 2023: Open for public visitors.
Venue: Saigon Exhibition and Convention Center (SECC) – 799 Nguyen Van Linh Street, District 7, Ho Chi Minh City, Vietnam.
Highlight Activities:
Buyers – Sellers Meetings
Gala Dinner Night, in conjunction with World Travel Awards for Asia and Oceania Ceremony 2023
ITE HCMC 2023 Cutting Ribbon Ceremony
Cambodia Night
Site Inspection Tour for Hosted Buyer and Hosted Media
ITE HCMC 2023 Thank You Party
For more information about ITE HCMC 2023, please visit website www.itehcmc.travel./.
SHARE NEWS: